CAO Daily Editorial analysis for UPSC IAS 17-September, 2017
Current Affairs Only Daily Editorial Analysis for Competitive Exams
---
17th September
---
 1. Breaking the chain of transmission

(

The Hindu)
---
Context
Complete elimination of mother-to-child transmission of HIV seems achievable
In news
The complete elimination of mother-to-child transmission (MTCT) of the virus seems achievable
Facts
Currently, 5% of babies born to those who are HIV-positive get infected. Last December, the National AIDS Control Organisation (NACO) had given indications that it could bring that figure down to less than 2% by 2030. Worldwide, a transmission rate below 2% is considered elimination.
Key route of transmission
MTCT is the primary route of transmission of HIV among children. Babies are infected during pregnancy, labour, delivery or while breastfeeding. Without any intervention, the risk of transmission is 20-45%.
Reducing risk
Women generally are advised to breastfeed only for six months until their babies can develop their own antibodies against a range of illnesses. But some doctors recommend that HIV-positive women should not breastfeed as their milk harbours the virus.
India has now moved on to the most advanced regimen. With good drugs and thorough compliance, the viral load in a mother reduces drastically and thus helps control transmission to babies to a large extent.
Mother-to-child transmission (MTCT)
The transmission of HIV from a HIV-positive mother to her child during pregnancy, labour, delivery or breastfeeding is called mother-to-child transmission.
---
---
Context
In this article importance of vitamin D and few facts regarding it is given
It used to be a routine in India to massage infants and then give them a sunbath. But changing lifestyles over the years have more or less put an end to this practice and children now spend most of their time indoors.
Study of 100 infants
Doctors at the University College of Medical Sciences, New Delhi, enrolled 100 infants in the study and asked their mothers to record the time, duration and the body area exposed during a sunbath every day, beginning six weeks of age.
The study found that an exposure of as low as about 30 minutes per week with about 40% of the child's body exposed to sunlight can help achieve adequate vitamin D status at six months of age. The researchers also found that the ideal time to have a sunbath is between 10 a.m. and 3 p.m.
A matter of concern
Several studies over the years have shown that more than 50% of the Indian population is vitamin D-deficient.
Vitamins
These are substances that your body needs to grow and develop normally. Vitamin D helps your body absorb calcium. Calcium is one of the main building blocks of bone. A lack of vitamin D can lead to bone diseases such as osteoporosis or rickets. Vitamin D also has a role in your nerve, muscle, and immune systems.
Vitamin D
It is also known as the sunshine vitamin, can be produced in the body with mild sun exposure or consumed in food or supplements.
Adequate vitamin D intake is important for the regulation of calcium and phosphorus absorption, maintenance of healthy bones and teeth, and is suggested to supply a protective effect against multiple diseases and conditions such as cancer, type 1 diabetes and multiple sclerosis.
Vitamin D has multiple roles in the body, helping to
Maintain the health of bones and teeth
Support the health of the immune system, brain and nervous system
Regulateinsulin levels and aid diabetes management
Support lung function and cardiovascular health
Influence the expression of genes involved in cancer development.
---
3. Across the aisle: Clueless in New Delhi

(

Indian Express)
---
Context
Every economist is agreed that India's economic growth has slowed down. The Chief Economic Adviser has candidly admitted the fact, only his government is in denial! If a government is in denial about the slowdown, it is fair to conclude that it is also clueless about the causes of the slowdown.
Empty Boast
In 2016, China's economy grew at 6.7 per cent; in 2016-17, India's economy grew at 7.1 per cent. The size of China's economy is USD 11,200 billion, India's economy is USD 2,300 billion. Even if in a year China's economy grew at a rate lower than India's, the value of the domestic product that China added that year was several times more than what India added in the same year.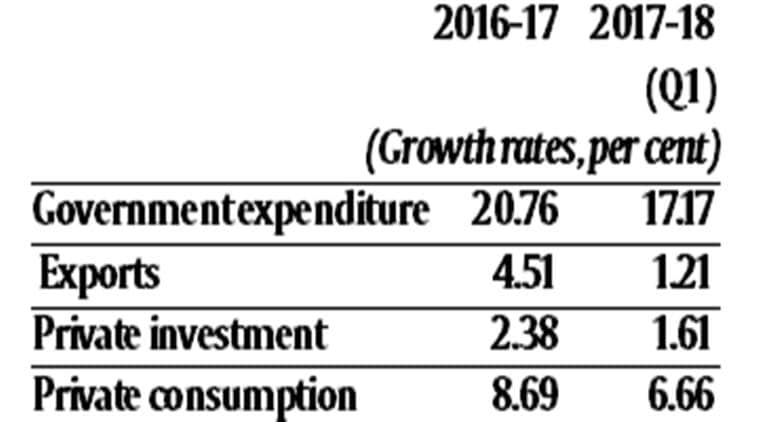 Three Engines Sputtering
Exports no longer drive growth. In the 10 years of the UPA government, exports rose to USD 314 billion in 2013-14, registering a CAGR (compound annual growth rate) of 17.3 per cent. In the last three years under the NDA government, exports have remained far below the peak
Private investment is also not driving growth. In the last three years, Gross Fixed Capital Formation (GFCF) as a percentage of GDP has been 31.34, 30.92 and 29.55 per cent — well below the peak of 34.31 per cent achieved in 2011-12.
The Index of Industrial Production (IIP) rings a bell every month, but no one seems to care or even understand. In April-July 2017, overall IIP grew by a mere 1.7 per cent; manufacturing IIP grew by 1.3 per cent. The July numbers were abysmal: overall 1.2 per cent and manufacturing 0.1 per cent.
---

Comments
comments