Cyclone Ockhi : All you need to know
In news
Cyclone Ockhi was the most intense tropical cyclone in the Arabian Sea since Cyclone Megh in 2015. The third and strongest storm of the 2017 North Indian Ocean cyclone season, Ockhi originated as a low pressure area in the Gulf of Thailand on 21 November.
It originated near Sri Lanka over the Bay of Bengal on November 29
Path of the cyclone
Due to favourable conditions, it traversed the southern part of the Bay of Bengal, transforming into a deep depression. As a deep depression, it caused damages to property and life in Sri Lanka on 29 November.
While near Kanyakumari in mainland India, Cyclone Ockhi changed its path and headed towards Lakshadweep in the Arabian Sea, gaining strength and transforming into a super cyclone.
How it originated?
On 20 November 2017, the remnant energy of Tropical Storm Kirogi led to the formation of a new low-pressure area over the Gulf of Thailand.
Over the next several days, the system moved into the Bay of Bengal and slowly drifted westwards, but the storm was unable to organize significantly due to unfavorable conditions.
On 29 November, the storm organized into depression just off the southeastern coast of Sri Lanka, and the India Meteorological Department gave the storm the identifier BOB 07.
Due to the storm's rapidly consolidating low level circulation center, the Joint Typhoon Warning Center issued a Tropical Cyclone Formation Alert on the system, shortly before classifying it as Tropical Cyclone 03B on 29 November. The IMD followed suit, upgrading the storm to a Deep Depression, and soon afterwards to Cyclonic Storm Ockhi.
Nomenclature of the cyclone
The name Ockhi was given by Bangladesh which in Bengali means 'eye'.
The World Meteorological Organisation (WMO) and the United Nations Economic and Social Commission for Asia and the Pacific (ESCAP) started the tropical cyclone naming system in 2000.
Requirement of the name
Tropical cyclones are named to provide ease of communication between forecasters and the general public regarding forecasts, watches, and warnings.
The Cyclones worldwide are named by 9 regions – North Atlantic, Eastern North Pacific, Central North Pacific, Western North Pacific, North Indian Ocean, South West Indian Ocean, Australian, Southern Pacific, South Atlantic.
Eight north Indian Ocean countries – Bangladesh, India, the Maldives, Myanmar, Oman, Pakistan, Sri Lanka and Thailand, gave eight names each which was combined into a list of 64 names. One name from each country is picked in an order to name the cyclones.
Cyclones in the North Indian Ocean basin are named by the Indian Meteorological Department and the first tropical cyclone was named in 2004 as Onil (given by Bangladesh).
The previous storm Mora that caused severe flooding across Northeast India in May was named by Thailand. Mora is the name of one of the healing stones and also means star of the sea.
The next cyclone will be named Sagar – a name given by India.
Time line & its Consequences
November 30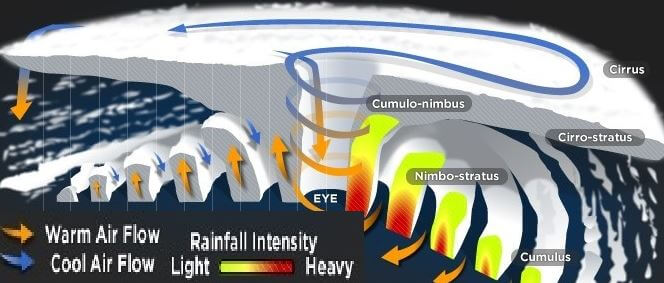 A deep depression in the Bay of Bengal near Tamil Nadu intensified into Cyclone Ockhi. This resulted in strong winds and heavy showers that uprooted more than 500 trees, snapped power lines, damaged settlements. In Kanyakumari, the situation was particularly worrisome and over 1,000 people were evacuated from the low-lying areas. Thirteen people died in coastal Kerala and Tamil Nadu.
December 1
Cyclone Ockhi strengthened further on December 1, triggering a "red warning" for Lakshadweep – the highest category alert. Simultaneously, rescue operations began in Tamil Nadu and Kerala.
December 2
In Lakshadweep, Cyclone Ockhi damaged five fishing boats. Over 1,000 people were evacuated to the relief camps. The cyclone moved beyond Lakshadweep towards Mumbai and Gujarat on the same day.
December 3
Kerala minister said Cyclone Ockhi cannot be called a national disaster as there is no such scheme, but assured all necessary assistance to tackle the situation.
December 4
2,604 fishermen from several parts of Tamil Nadu, including 220 from Kanyakumari district were rescued.
December 5
Cyclone Ockhi which held the "very severe" cyclone status has weakened into a "severe" cyclone, the MeT office said. Cyclone Ockhi-driven rains lashed Mumbai and an alert has been sent to Gujarat, where it is expected to make a landfall.
Basic Gyan
What Are Cyclones?
Cyclone refers to any spinning storm that rotates around a low-pressure center. The low-pressure center is also referred to as the 'eye' of the storm, which is well known for being eerily calm compared with the areas under the spinning 'arms' of the storm. You could say that the eye is watching what's going on down below, so it needs a clear path, but the arms are where all the action happens because this is where the storm is throwing out all of its rain and wind.
Types of Cyclones
The term 'cyclone' actually refers to several different types of storms. They occur in different places, and some occur over land while others occur over water. What they all have in common is that they are spinning storms rotating around that low-pressure center.
Tropical cyclones are what most people are familiar with because these are cyclones that occur over tropical ocean regions. Hurricanes and typhoons are actually types of tropical cyclones, but they have different names so that it's clear where that storm is occurring. Hurricanes are found in the Atlantic and Northeast Pacific, typhoons are found in the Northwest Pacific. If you hear 'tropical cyclone,' you should assume that it's occurring in the South Pacific or Indian Ocean, but for this lesson, we'll use it refer to all types of tropical ocean cyclones.
We can also further describe tropical cyclones based on their wind speeds. They are called category 1, 2, 3, 4 or 5, increasing with intensity and wind speed as the number increases. A category 1 cyclone is the weakest, with wind speeds of 74-95 mph. A category 5 cyclone, on the other hand, is extremely dangerous and has the potential for major damage. Category 5 cyclones have wind speeds of 155 mph and above!
Polar cyclones are cyclones that occur in polar regions like Greenland, Siberia and Antarctica. Unlike tropical cyclones, polar cyclones are usually stronger in winter months. As you can see, these storms really do prefer the colder weather! They also occur in areas that aren't very populated, so any damage they do is usually pretty minimal.
A mesocyclone is when part of a thunderstorm cloud starts to spin, which may eventually lead to a tornado. 'Meso' means 'middle', so you can think of this as the mid-point between one type of storm and the other. Tornadoes all come from thunderstorm clouds, but not all thunderstorm clouds make tornadoes. In order for a tornado to occur, part of that cloud has to spin, and though you can't really see this happening, this is the intermediate, or 'meso' step from regular cloud to dangerous spinning cloud running along the ground.
Formation of cyclone
Hurricanes are the most violent storms on Earth. People call these storms by other names, such as typhoons or cyclones, depending on where they occur. The scientific term for all these storms is tropical cyclone. Only tropical cyclones that form over the Atlantic Ocean or eastern Pacific Ocean are called "hurricanes."
---