From Plate to Plough: Freeing the farm {Agricultural sector}
Context
Raising agricultural exports requires the government to unburden policy of consumer bias. A balance should be struck between meeting the needs of food-insecure consumers and income-insecure farmers.
Why in news?
The Agriculture Minister, Radha Mohan Singh, recently tweeted about the government's resolve to increase the value of the country's agricultural exports to $100 billion by 2022-23.
Few stats
The different targets also reflect a disconnect within the government and show inter-ministerial coordination in poor light.
From $8.7 billion in 2004-05 to $42.6 billion by 2013-14. This was an unprecedented achievement in independent India's history. Not only this, India's net agri-export surplus (exports minus imports) increased from $3.7 billion in 2004-05 to about $27 billion in 2013-14; that was a more than a seven-fold increase.
However, in 2014-16, India's agri-exports fell to $32 billion. They rose marginally to $33 billion in 2016-17 (see graph). The net trade surplus fell to $9.5 billion in 2015-16 and further to $7.8 billion in 2016-17. The April-February data for 2017-18 shows agri-exports at $34 billion; this is likely to go up to about $38 billion once we have figures for the entire financial year.
Challenge
Thus, the real challenge for the Narendra Modi government is to first engineer recovery of agri-trade to the 2013-14 levels. Besides, the target of $60 billion by 2022-23 is less than a 50 per cent increase over a nine-year period — from 2013-14 to 2022-23.
The draft Agri-Exports Policy rightly identifies two steps
Identify commodities in which India holds a global comparative advantage and develop clusters in states to create value chains for these commodities.
Research conducted at ICRIER can be of help if the government decides to take the first step enunciated in the draft policy. Eleven commodities — marine products, rice, meat, spices, cotton, fresh fruits and vegetables, sugar, coffee, groundnut, oilmeals and cashews — comprised more than 80 per cent of the country's agri-export basket in 2016-17.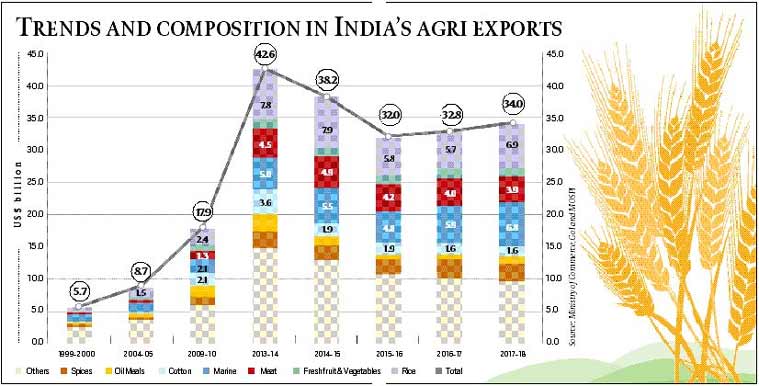 Possible solution
The first change that is required pertains to mindsets. Instead of suppressing market prices for farmers to support consumers, the government should protect them through targeted unconditional income transfers. Restricting markets and compensating farmers through higher MSPs based on the new formula (cost A2+FL+50 per cent) will be an inflationary and unsustainable solution to the woes of the country's agriculturists. It is likely to hit agri-exports adversely, especially rice and cotton. The exports will become uncompetitive.
Second, policymakers should support agri-exports while ensuring environmental sustainability. While marine products, meat, oilmeals, groundnuts, cotton, spices, fruits and vegetables do not pose environmental problems, exports of rice must be properly assessed. Cultivating one kg of rice in Punjab or Haryana needs about 5,000 litres of irrigation water. This is drawn from underground and has led to a drastic fall in the groundwater table by 70 to 110 cms/year. Exporting large quantities of common rice from this region is akin to exporting billions of cubic meters of water. The best way to correct this would be to gradually phase-out power and irrigation subsidies, and replace them with a direct income support to farmers, while letting the prices of power and water reflect its true value.
Third, the government must develop efficient global value chains and liberalise land lease markets across all states. It should encourage contract farming on a medium- to long-term basis. Exporters and processors must be encouraged to buy directly from farmer-producer organisations (FPOs), bypassing the inefficient APMCs. Major investments are needed at the back-end to create infrastructure for global and domestic value chains, ranging from produce aggregation to its sorting and grading, packaging, storing and linking the hinterlands to ports for export markets.