GST comes into force after mid-night launch
India's biggest tax reform since independence 'Goods and Service Tax' (GST) comes into force at the stroke of midnight on 1 July 2017, nearly after 17 years of its conception.
GST, which brings the entire country under single taxation system, was launched by President Pranab Mukherjee and Prime Minister Narendra Modi by pressing a button at a special function in central Hall of Parliament the midnight of 30 June – 1 July 2017.
The GST launch was marked by the speech of Prime Minister Narendra Modi, who dubbed the tax regime as the 'Good and Simple Tax'.
With effect from 1 July 2017, GST is expected to completely transform the Indirect Taxation landscape in the country involving both the Central and State levies as GST will be administered together by the Centre and States.
Impact of GST on Goods and Services
Important Features of GST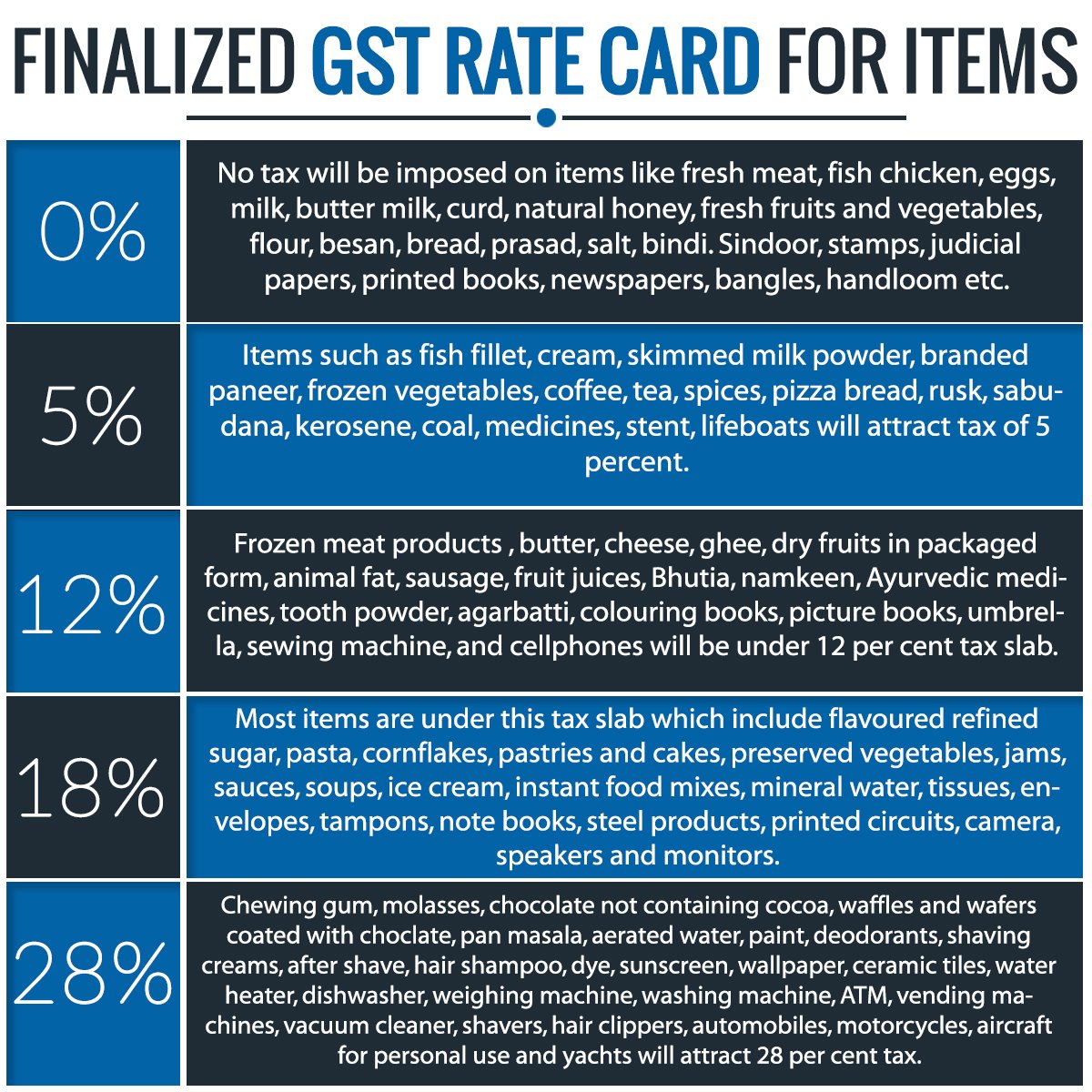 GST will be administered through a modern world-class information technology (IT) system.
A special GST Network (GSTN) was created for GST implementation. Under this, section 25 private limited company with Strategic Control with the Union Government will function as a common Pass-through portal for taxpayers.
GST envisions that all transactions and processes to be done only through electronic mode to achieve non-intrusive administration.
It provides for the facility of auto-populated monthly returns and annual return.
It facilitates the taxpayers by prescribing grant of refund within 60 days, and provisional release of 90 per cent refund to exporters within 7 days.
Under GST, the tax incidence will be transparent, enabling full removal of tax burden on exports and full incidence of domestic taxes on imports.
An important aspect is that individual states will no longer be able to change their tax rates. The tax rates will be decided by the GST Council, which has representation from all states and the Centre.
State governments will earn the SGST part of the GST (and a share from the consolidated revenue of the Centre). However, it will not have the ability to change this share to respond to droughts or floods. The only instrument that will remain with states is borrowing.
Petroleum products such as petrol, diesel and aviation turbine fuel have been kept out of GST as of now. The GST Council will take a decision on it at a later date. Alcohol has also been kept out of GST.
Read More: All you need to know about GST: FAQs
Timeline of GST after the Constitutional Amendment Act, 2016
After the assent of President Pranab Mukherjee on 8 September 2016, the GST Constitutional (101st Amendment) Act, 2016 came into existence for the implementation of GST Regime. Following which, the GST Council was constituted on 15 September 2016.
The GST Council has held 18 meetings since its formation in September 2016. These meetings have been attended by the Finance Ministers of all the states or their representative along with State and Central Government officials to formulate the law and procedure to implement this historic tax reform.
Over 200 meetings of the government officials took place in different parts of the country to speed up the implementation of GST.
While framing GST Acts and Rules, the key consideration was to endure 'Ease of doing business' for the taxpayers and accordingly the roles and responsibilities of the States and Central government were defined.
In a short span of time, the GST council cleared GST laws, GST Rules, Tax rate structure including Compensation Cess, Classification of goods and services into different rate slabs, exemptions, structure for tax administration, etc.
On 29 March 2017, the Union Finance Minister Arun Jaitley tabled four Goods and Services Tax (GST) Bills- The Central Goods and Services Tax (CGST) Bill, 2017, The Integrated Goods and Services Tax (IGST) Bill, 2017, The Union Territories Goods and Services Tax (UTGST) Bill, 2017 and the GST (Compensation to States) Bill, 2017.
They were passed by the Parliament on 6 April 2017. Thereafter, the GST Council decided the Final structure of GST as follows:
The threshold limit for exemption from levy of GST is Rs 20 lakh for the States except for the Special Category, where it is Rs 10 Lakh.
A four slab tax rate structure of 5 per cent, 12 per cent, 18 per cent and 28 per cent has been adopted for GST.
A cess would be levied on certain goods such as luxury cars, aerated drinks, pan masala and tobacco products, over and above the GST rate of 28 per cent for payment of compensation to the states.
The threshold for availing the Composition scheme is Rs 75 lakh except for special category States where it is Rs 50 lakh. Certain categories of manufacturers, service providers are out of the Composition Scheme.