What is in news?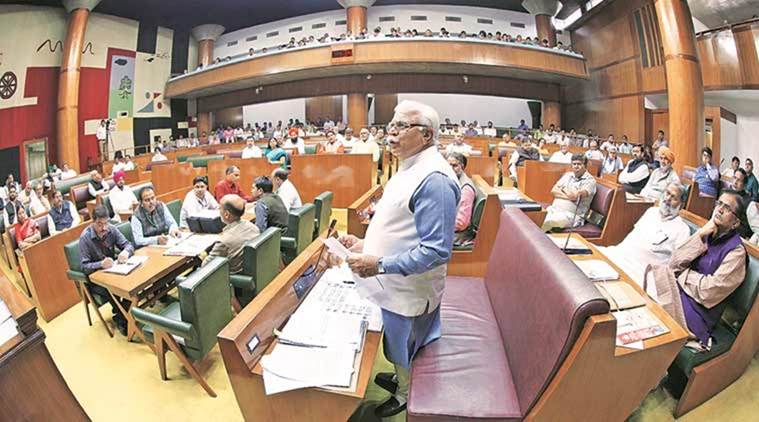 The Haryana Goods and Services Tax Bill, 2017, was passed unanimously by the state Assembly with the passage of the Bill, Haryana became the eighth state to pass the legislation
Background:
The GST Council, the top decision making body headed by Finance Minister Arun Jaitley, had earlier approved a model SGST Bill at its 12th Meeting on March 16 this year.
Composition scheme of GST:
Composition Scheme under GST, a taxpayer is required to file one summarized return on quarterly basis, instead of three monthly returns as applicable for normal businesses.
Who can opt for Composition Scheme?
Businesses dealing in only goods can only opt for composition scheme, Services Provider have been kept outside the scope of this scheme. However restaurant sector taxpayers may also opt for the scheme.
The manufactures will have to pay at the rate of one per cent and taxpayers serving foods (restaurateurs) will be paying at the rate of 2.5 per cent under the composition scheme of GST.
The composition scheme is not available to the tax payers engaged in the business of inter-state supplies or providing supplies of services except (restaurateurs). No input tax credit shall be admissible to a composition taxpayer.
State taxes that would be subsumed under the GST are: State VAT, Central Sales Tax, Luxury Tax, Entry Tax in lieu of octroi, Entertainment Tax (not levied by the local bodies), taxes on advertisements, purchase tax, taxes on lotteries, betting and gambling.
Advantage Of GST
GST is a singleTax and Tax on Tax will be eliminated. Several Auxiliary Taxes will be removed in Single Tax.
After the union of GST act, India will be a individual market.
All the goods and services will be given at same price in all the states.
As the tax rate will be equal in all over India.
After This, the tax is not suitable for manufacturing hand. So manufacturers are easy to grow their business and develop it.
All the Goods where many taxes are applicable will be lower like excise duty and vat both will come to about 30% of Tax but in GST it is expected to be 18-20%.
Disadvantages of GST
The Service Tax in India is now 15% but the recommended GST is about 18-20%.
All the services will be Costlier and that is one of the Disadvantages of GST.
Where are some retail stocks where the Tax rate is only 4 percent but with GST it will be costlier like Garments and cloths
Business will be controlled by the center and state so it may be some complicated for the businessman.
All assets will be online and some fines are like criminal activity.
GST is also producing three type of taxes and all must be maintained and this not working too easy for small Businessman.