The HINDU Notes – 05th May 2017(Daily NewsPaper Analysis)
📰 THE HINDU – CURRENT NOTE 05 May
---
---
What's in news?
The Supreme Court refused to entertain a plea to make Hindi language compulsory for school students to promote national unity.
Reasons given: Making Hindi compulsory might open the flood gates for people speaking other languages to demand that theirs should also be made compulsory.
Petitioner Ashwini Kumar Updhayay contention
Non-execution of the three-language formula enunciated in the 1968 National Policy Resolutionby the Centre in consultation with the States.
1968 National Policy Resolution: three-language formula provided for the study of Hindi, English and modern Indian language in Hindi-speaking States, and Hindi, English and a regional language in the non-Hindi speaking States
1968 policy was framed in response to demands from non-Hindi-speaking States like Karnataka, Andhra Pradesh and Tamil Nadu. However, all these States had not followed the three-language formula till date
---
⏳ 

Indore is the most Swachh city, Gonda the dirtiest
Indore and Bhopal in Madhya Pradesh have emerged as the cleanest cities in the country. The dirtiest city is Gonda in Uttar Pradesh.
This is as per the survey, Swachh Survekshan-2017, the cleanliness survey commissioned by the Union Urban Development Ministry during January-February and carried out by the Quality Council of India across 434 citiesincluded the feedback of 18 lakh respondents and took into account criteria and weighted score for different components of sanitation-related aspects.
In some cases, it was not the 'independent observation' score that dragged past high performers down, but the 'public feedback' score. For others, though, the reverse was true.
The top 10 cleanest cities are Indore, Bhopal, Visakhapatnam, Surat, Mysuru, Tiruchi, New Delhi Municipal Council area, Navi Mumbai, Tirupati and Vadodara.
Gujarat has the maximum of 12 cities in the top 50, closely followed by Madhya Pradesh with 11 and Andhra Pradesh with 8.
Swachh Survekshan survey: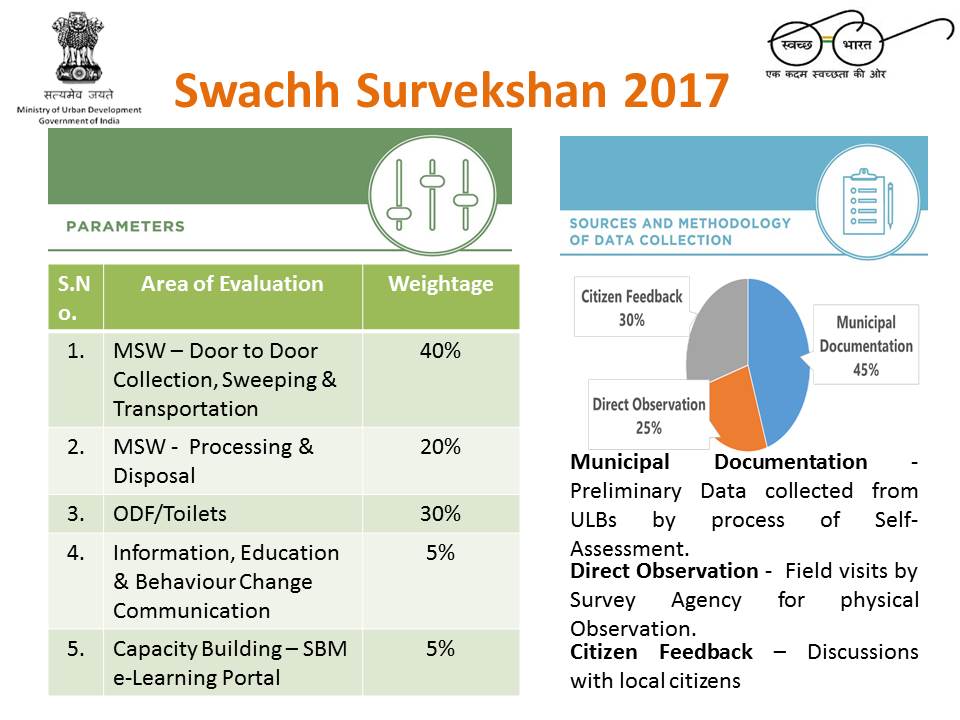 Conducted by the Quality Council of India, the Swachh Survekshan-2017 judged cities on the basis of data provided by Municipal bodies, which carried 900 marks, data collected through direct observations and independent assessment (500 marks), and citizen feedback (600 marks).
---
⏳ 

Commando killed, 19 injured in landmine blast in Gadchiroli
A commando of Maharashtra police's special anti-Maoist unit, C-60, was killed and 19 others suffered injuries when an improvised explosive device (IED) triggered by Maoists hit their armoured vehicle in Gadchiroli district of Maharashtra on 3 May 2017 night.
The district, which has witnessed a drop in Maoist activities since 2014, saw a spurt in Maoist violence this year with back to back attacks on personnel and killing of informers.
The rebels torched more than 80 mining vehicles in Surjagad area of Gadchiroli in the last week of December 2016 signalling their return to the district.
On April 24, 25 CRPF personnel were killed and six wounded in a dastardly attack in Chhattisgarh's Sukma district.
---
⏳ India's first 'village of books' opens
Terming it a "historic occasion", Maharashtra Chief Minister Devendra Fadnavis on 4 May 2017 inaugurated India's first 'village of books' in the picturesque mountain village of Bhilar in Satara district, Maharashtra.
Geographically modelled on the similarly idyllic market town of Hay-on-Wye — the Welsh mecca for bibliophiles — Bhilar, with its robust collection of literature in Marathi, aims to be the one-stop destination for lovers of vernacular literature.
The idea of a book village sited close to the hill-station town of Mahabaleshwar was to transform Bhilar into a haven where bibliophiles can devour books.
With a population of 5,000, an overwhelming majority of whom are engaged in strawberry farming, the village, nestled in the Sahyadri hills, is a major producing- hub of strawberries, which draws a lot of tourists.
---
⏳ 

CIC seeks details of action against former Chief Justice
The Central Information Commission has directed the Supreme Court Information Officer and the Union Law Ministry to share details of the action taken on a complaint regarding former Chief Justice of India (CJI) Altamas Kabir in connection with the alleged leak of a judgment in 2013.
Issuing the order, Information Commissioner M. Sridhar Acharyulu observed that a comprehensive mechanism was needed to ensure both answerability and access to information about the administration of justice, stating: "It is not known who will discipline the judges or former judges, CJI or former CJI.
The Supreme Court judgment dated July 18, 2013, in the matter of Christian Medical College, Vellore, vs Union of India, was allegedly uploaded on a private website hours before the pronouncement.
On July 24 the same year, eminent RTI activist Subhash Agrawal sought from the Law Ministry details of complaints filed by Justice (Retired) V.R. Krishna Iyer and Dr. M. Furquan.
He also asked about the action taken on the complaints. However, he did not get any concrete information.
After hearing both sides, the Information Commissioner directed the Supreme Court information officer to inform the appellant about the action or follow-up on the representation of Dr. Furquan, which was forwarded by the Law Ministry to the CJI's private secretary.
He also directed that the petitioner be provided the number of complaints rejected or accepted, without indicating the names or contents.
Issuing the order for compliance within 60 days, the Information Commissioner observed that there was no system for redress of grievances in any courts of India, and no mechanism to receive complaints against the judiciary.
---
⏳ 

Pak seizing boats from Indian waters, claim Gujarat fishermen
Since the beginning of this year, the Pakistan Maritime Security Agency (PMSA) has adopted aggressive methods, capturing around 300 Indian fishermen and seizing more than 60 fishing boats off the Gujarat coast.
The PMSA's actions along the International Maritime Boundary Line (IMBL) in the Arabian Sea, where thousands of trawlers from Gujarat go on multi-day fishing expeditions, have flummoxed the fishermen and those engaged in the marine food industry.
"Our fishermen are victims of PMSA's war-like strategy in the fishing zones in the Arabian Sea. Earlier, the PMSA used to detain only those boats and fishermen who ventured into their territorial waters. But now, they often come into our waters and capture our fishermen," said Porbandar-based Manish Lodhari, secretary of the National Fish-workers' Forum.
According to him, at present, almost 600 fishermen from Gujarat are languishing in in Karachi jails while 980 boats – mid-sized, mechanised fishing trawlers — of Gujarati fishermen have been taken away by the PMSA. They are all anchored at a harbour in Karachi, Mr Lodhari said.
At the moment, about 45- 50 Pakistani fishermen are lodged in jail in Gujarat, while approximately 50 small and mid-sized boats have been seized by Indian agencies.
---
⏳ 

No media glare for South Asia Satellite



A communication spacecraft, the South Asia Satellite, which will serve India and six of its regional neighbours, is set to lift off from Sriharikota off Andhra Pradesh on 5 May 2017 evening.
The 2230-kg spacecraft will be launched on a GSLV F09.
A normally transparent ISRO has been unusually reticent about a less than routine launch.
There will be no live telecast.
Brochures that would be routinely released about five days ahead of a mission are still to be uploaded on the ISRO website.
Mediapersons will not cover a launch for the first time in a decade; normally ISRO would ferry about 200 reporters from different places to Sriharikota to witness a launch.
Among the three earlier exceptions was the launch of Israel's spy satellite, TecSAR, on a PSLV in January 2008.
The communication spacecraft carries 12 Kuband transponders that can drive telecommunication, disaster management, broadcasting and direct to home TV, Internet activities, tele-education and telemedicine across the region.
It was first announced as SAARC Satellite by the Prime Minister in July 2014 as India's gift to regional neighbours.
After Pakistan declined to participate, Afghanistan, Bangladesh, Bhutan, The Maldives, Nepal and Sri Lanka remain in the plan to reap its uses.
---
What's in news?
UN'S Human Rights Council proceedings highlights(at Geneva): Council members recommended a revision in India's Foreign Contribution Regulatory Act (FCRA), a repeal of the Armed Forces Special Powers Act, decriminalisation of homosexuality and the inclusion of marital rape in Indian laws on sexual violence.
Who led the attack?
The attack on the FCRA act came from nearly a dozen countries, mostly from Europe. The charge was led by the U.S. and Germany, who called the Act and the government's actions "arbitrary". 
Attorney-General Mukul Rohatgi response:
FCRA is a legitimate law that NGOs wishing to operate in India must follow.
Attack on minorities
The government also faced criticism on violence against religious minorities from a number of countries.
Pakistan's statement was the sharpest, accusing India of failing to protect minorities "especially Muslims" from "mob violence" and "attacks by extremist groups affiliated to the government."
Attacks on Africans in India appeared as a new subject of concern at the HRC proceedings.
UN Additional Convention Against Torture (CAT)
Nearly all 112 countries at the 5-yearly review of India's record called for India to ratify the UN Additional Convention Against Torture (CAT).
India is one of only nine countries which haven't yet implemented the Torture convention, despite signing on to it in 1997.
In 2012, India had also given a unilateral pledge to ratify CAT, but has yet to move forward on it, despite a Supreme Court directive in the matter.
Basic Information:
UN Additional Convention Against Torture (CAT)
The Convention against Torture and Other Cruel, Inhuman or Degrading Treatment or Punishment (commonly known as the United Nations Convention against Torture) is an international human rights treaty, under the review of the United Nations that aims to prevent torture and other acts of cruel, inhuman, or degrading treatment or punishment around the world.
The Convention requires states to take effective measures to prevent torture in any territory under their jurisdiction, and forbids states to transport people to any country where there is reason to believe they will be tortured.
---
⏳ 

Centre selling Aadhaar like a panacea, says petitioner
The government is selling Aadhaar like "herbal medicine" — a panacea for all ills from black money to terrorism to leakage, counsel Arvind Datar told the Supreme Court on 4 May 2017, in his rebuttal to the Centre's argument that Aadhaar was foolproof and leakproof.
"Anybody with common sense would ask how will Aadhaar check black money. Aadhaar was sold as a panacea for all ills — black money, terrorism, and leakage like herbal medicine. Aadhaar is like having built a bridge and looking for a river," Mr. Datar, representing main petitioner and senior CPI leader Benoy Viswam, submitted before a Bench of Justices A.K. Sikri and Ashok Bhushan. Mr. Datar said only 0.4% of PAN cards were found to be duplicate.
On the government's argument that Aadhaar is necessary for India to remain compliant to the Foreign Account Tax Compliant Act(FATCA), Mr. Datar said nothing in FATCA created a requirement for Aadhaar.

Here, government counsel Arghya Sengupta intervened to submit that "the problem is that if we give the United States duplicate PANs, it becomes an embarrassment."
---
⏳ 

Agni II test fails to meet desired parameters.

 

India on 4 May 2017 test-fired its medium-range nuclear-capable Agni-II missile having a strike range of more than 2,000 kms from an island off the Odisha coast as part of a user trial by the army.
The test, however, did not meet all the desired parameters, official sources said.
The trial of the surface-to-surface missile was conducted from a mobile launcher at the Integrated Test Range (ITR) on Abdul Kalam Island at around 10.25 am, they said.
Agni-II has already been inducted into the services and todays test from Launch Complex-4 of the ITR was carried out by the Strategic Forces Command (SFC) as part of a training exercise.
Logistic support for it was provided by the Defence Research and Development Organisation (DRDO), they said.
The two-stage missile equipped with advanced high- accuracy navigation system was propelled by solid rocket propellant system, the sources said.
Agni-II, which has a length of 20 metres, weighs 17 tonnes and can carry a payload of 1000 kgs over a distance of 2000 kms.
It is a part of the Agni series of missiles developed by the DRDO which includes Agni-I (700-km range), Agni-III (3,000 kms), Agni-IV (4,000 kms) and Agni-V (more than 5,000 kms).
The last user trial of Agni-II conducted on November 9, 2014, from the same base was a success.
---
⏳ 

Russia, Iran and Turkey ink Syria deal.

 
Syrian regime allies Russia and Iran and rebel supporter Turkey on 4 May 2017 signed a memorandum on a Moscow-backed plan to create safe zones in Syria to bolster a fragile truce.
The Syrian government and rebel delegations are not signatories.
The Kremlin has been mulling the creation of safe zones in Syria aimed at "further pacification and cessation of hostilities".
Kremlin's plan echoes calls by U.S. leader Donald Trump to establish safe zones in Syria.
---
⏳ Cut corporate tax to 18%, remove all incentives: CII
Broadly backing NITI Aayog member Bibek Debroy and Chief Economic Adviser Arvind Subramanian, new CII presidentShobana Kamineni has batted for taxation of agricultural income above a certain threshold, but also pitched for steps including cutting corporate income tax to 18% along with removal of all incentives, to help India achieve a 10%- plus GDP growth by 2019-20.
Citing the 25% rate as applicable only for firms with turnover of up to Rs. 50 crore, she said 25% should be made the rate for all companies.
"Eventually, corporate tax rate could be brought down to 18% together with the removal of all incentives." This, she said, would ensure better compliance.
Eight new 'special taskforces' including one on 'agriculture income tax' will be set up by the CII to take forward its agenda of an 'inclusive and responsible' India, said Ms. Kamineni — who is the CII's first woman president.
The other taskforces will be on judicial reforms, cybersecurity, security and privacy, and tax compliance, among others.
---
⏳ Higher coal tax may benefit economy: IMF
An annual Rs. 150 per tonne increase in tax on coal from 2017 to 2030 could prevent over 2.7 lakh deaths from air pollution, raise GDP by 1% by 2030, reduce carbon dioxide emissions by 12% and generate net economic benefits of about 1% of GDP, according to IMF.
"The main domestic environmental cost of burning coal is outdoor air pollution, which exacerbates mortality rates for various (e.g., cardiovascular and pulmonary) diseases," said the working paper released by the International Monetary Fund (IMF) on 3 May 2017.
"Outdoor air pollution from fossil and non-fossil sources prematurely killed an estimated 0.53 people per 1,000 of the population in 2010 in India, or about 6.5 lakh in total."
"Fossil fuel taxes can provide a significant source of easily-collected revenue, which is especially valuable when revenues from broader taxes on labour, capital, and consumption are insufficient due to a large concentration of economic activity occurring in the informal sector," it added.
The paper also says that, in the event of political reasons not permitting any increase in coal tax, the government should implement subsidies or other incentives to encourage the shift away from coal generation.
---
⏳ 

A bionic hand that can 'see'

 
Scientists have developed a new bionic hand that can 'see' objects and allow amputees to grasp things ten times faster than currently available prosthetics.
The bionic hand is fitted with a camera that instantaneously takes a picture of the object in front of it, assesses its shape and size and triggers a series of movements in the hand.
Bypassing the usual processes that require the user to see the object, physically stimulate the muscles in the arm and trigger a movement in the prosthetic limb, the bionic hand 'sees' and reacts in one fluid movement.
A small number of amputees have already tested the technology developed by researchers at the Newcastle University in the U.K.
Current prosthetic hands are controlled via myoelectric signals — electrical activity of the muscles recorded from the skin surface of the stump.
Controlling them takes practice, concentration and time.
Using neural networks — the basis for artificial intelligence — researchers showed the computer numerous object images and taught it to recognise the 'grip' needed for different objects
---
---
---