The HINDU Notes – 27th April 2017(Daily NewsPaper Analysis)
📰 THE HINDU – CURRENT NOTE 27 April
---
---
---
What's in news?
Supreme Court view on the mandatory linking of Aadhaar to the Permanent Account Number (PAN) and Income Tax returns:
Commendable move: Linking is government's efforts to bring new and new laws to stop leakages.
To fight against tax evasion in the country.
Justice A.K. Sikri observation: "When tax evasions are there, the
government will try to bring new and new laws to stop leakages. We as citizens are like that… we don't want to pay taxes, shame on us. This conduct and character is seen for example at the time of matrimonial alliance. Then the groom has the best income. The moment the estranged wife files a maintenance application, the same boy is a pauper,"
Petition: filed by Ramon Magsaysay award winner Bezwada Wilson, former Kerala Minister Binoy Viswam and ex-Army officer S.G. Vombatkere.
Challenge? Constitutionality of Section 139AA inserted in the Income Tax Act by the Finance Act, 2017.
Section 139AA: The provision makes Aadhaar mandatory for getting a PAN. Possession of Aadhaar card is necessary for the continuing validity of an existing PAN and for filing returns under the income tax law.
Menace of Fake Aadhar:
Attorney-General Mukul Rohatgi said there were five to 10 lakh fake PAN cards generated every year. Mr. Rohatgi also said the biometric technology used in Aadhaar left no chance for duplication.
Key fact: 132% of the population of Delhi is shown to have taken Aadhaar cards and 104% all over the country.
34,000 agencies which dealt with collecting data for Aadhaar were blacklisted.
---
What's in news?
Birds endemic to the biodiverse Western Ghats appear to be in greater danger than they were thought to be, because the range of places they live in may have been overestimated.
Problem with the range distribution estimates: Researchers from four American universities who analysed range maps used by the influential global authority, the International Union for Conservation of Nature (IUCN), found that for 17 of 18 bird species, the distribution was smaller than IUCN estimates.
The 'Red List' classifications of the IUCN serve to guide protection policies – 'less vulnerable' species receive a lower conservation focus.
The study argues that IUCN overestimated the habitat of these bird species by up to 88%.
Of the 18 species, habitats of 12 were overestimated by over 50%.
Example:
The Malabar grey hornbill which IUCN classifies as 'Least Concern' and believes is distributed across 2.3 lakh sq.km in Kerala and Karnataka. But when researchers used a spatial modelling technique, they found its range was just 43,060 sq. km, or, nearly 81% less than the estimates. This would put the bird in the 'Near Threatened' category.
Nilgiri pipit appears to have lost 88% of its habitat, making it "endangered" rather than "vulnerable".
Outcomes: Underestimating threat and overestimating habitat reduces policy response.
Method used:
IUCN uses expert sightings and other records.
The study used land cover, forest type (satellite imagery), temperature, precipitation and 'citizen science' using the eBird online birding checklist.
---
🌐 High Court spells out steps to stop pollution in Dal Lake
Coming down heavily on the caretaker body Lakes and Waterways Department Authority (LAWDA) and the civil administration for their "lax approach and insufficient staff", the Jammu & Kashmir High Court pulled them up for "failing" to preserve the famous Dal Lake.

The court ordered a slew of measures to contain the ever-growing pollution, and encroachments in and around the water body, which is central to the Valley's tourism.
Noting that existing Sewage Treatment Plants (STPs) "were not functioning effectively and needed to be upgraded", the court said: "Re-structuring and refurnishing of existing STPs should also be examined. By any chance the existing STPs are stopped, the impact it may have on pollution in Dal lake will be irreversible."
It asked the authorities to rope in non-governmental and other organisations "for technical experience" and to install CCTV cameras"to strengthen" the LAWDA's Enforcement Wing.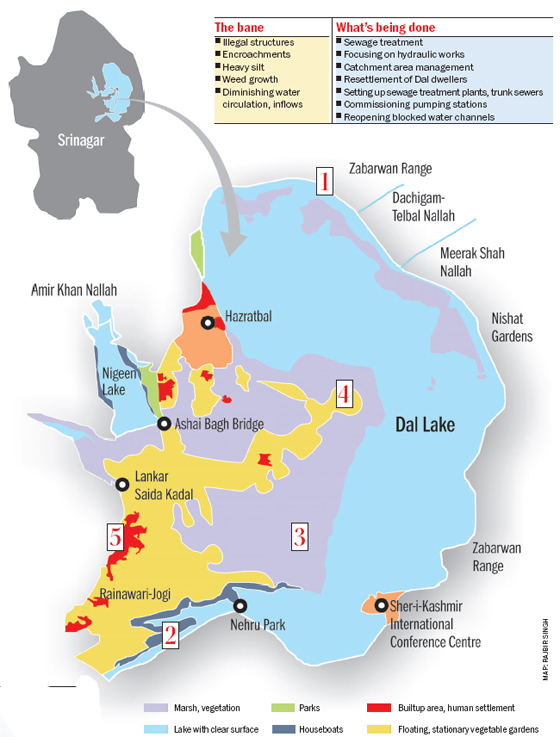 The court directed the State government to ensure rehabilitation of residents at Rakh-I-Arth housing colony, a rehabilitation project for lake-dwellers who are being displaced as part of the conservation programme.
The court also stressed the need to seek guidance of the World Wildlife Fund, which has created a network called the India Water Stewardship Network and Alliance for Water Stewardship, "to ensure sustainable water management".
"We further suggest that the Monitoring Committee [set up by the High Court in 2002] consider and recommend to the government whether a non-profit trust can be formed, like a 'Dal Lake Fund'. It can be given the task of restoration of the lake," the judges observed.
The court held that school and college students can be asked to take part in community service programmes, focusing specifically on clean environment in and around the lake.
"This will encourage good Samaritans help to save the lake," the court observed.
---
🌐 SC seeks law to regulate NGO funds
The Supreme Court suggested that the government ought to frame a statutory law to regulate the flow of public money to the NGOs even as Council for Advancement of People's Action and Rural Technology (CAPART) recommended the registration of 159 FIRs against various NGOs for swindling government funds.
CAPART works under the Rural Development Ministry.
A three-judge Bench led by Chief Justice of India J.S. Khehar suggested introducing a law after perusing guidelines handed over by the government to the court, appointing NITI Aayog as the nodal agency for NGO registration.
But the court said the guidelines might not prove sufficient for "systematising the entire process of accreditation, fund utilisation and audit of NGOs".
The Centre on April 4 handed over to the Supreme Court the new guidelines framed for accreditation of nearly 30 lakh NGOs and voluntary organisation in the country.
The Union Rural Development Ministry had framed the accreditation guidelines to regulate the "manner in which the VOs/NGOs, which are recipient of grants, would maintain their account, the procedure for audit of the account, including procedure to initiate action for recovering of the grants in case of misappropriation and criminal action".
CBI records filed in 2016 in the Supreme Court had shown show that only 2,90,787 NGOs file annual financial statements of a total of 29,99,623 registered ones under the Societies Registration Act.
In some States, the CBI said the laws do not even provide for the NGOs to be transparent about their financial dealings.
In the Union Territories, of a total of 82,250 NGOs registered and functioning, only 50 file their returns.
New Delhi has the highest number of registered NGOs among the Union Territories at 76,566. But none of these organisations submit returns, the CBI chart showed.
Uttar Pradesh, which has the highest number of NGOs at 5.48 lakh among 26 States, has only about 1.19 lakh filing returns.
The Supreme Court had expanded the scope of Mr. Sharma's PIL petition alleging misuse of funds by Anna Hazare's NGO Hind Swaraj Trust to include the status of all NGOs.
---
What's in news?
Market regulator SEBI decided to grant a unified licence to brokers and clearing members to operate in commodity derivative as well as equity markets.
SEBI's board approved a proposal for integration of stock brokers in equity and commodity derivative space.
Advantages of Unified licence:
Abroker or clearing member dealing in the securities markets will be allowed to buy, sell or deal in commodity derivatives without setting up a separate entity and vice-versa.
It will increase economic efficiency in terms of meeting operational and compliance obligations at the member level, potentially resulting in ease of doing business.
Help in widening market penetration and facilitate effective regulatory oversight by stock exchanges and SEBI.
Stricter P-Note norms:
SEBI also decided to bar resident as well as non-resident Indians from making investments through participatory notes.
Why such a move?
The decision is part of efforts to strengthen the regulatory framework for offshore derivative instruments (ODIs), commonly known as participatory notes (P-Notes), which have been long seen as being possibly misused for routing of black money from abroad.
What are Participatory notes?
Participatory notes, also referred to as "P-notes," are financial instruments used by investors or hedge funds that are not registered with the Securities and Exchange Board of India (SEBI) to invest in Indian securities.
Any dividends or capital gains collected from the underlying securities go back to the investors. Indian regulators are against participatory notes because they fear that hedge funds acting through participatory notes will cause economic volatility in India's exchanges.
Foreign institutional investors (FIIs) provide quick money entering the Indian capital market. Because of the short-term nature of investing, regulators have fewer guidelines for FIIs. To invest in Indian stock markets without the hassle of involvement with the regulatory approval process, FIIs trade P-notes.
P-notes are easily traded overseas through endorsement and delivery. They are popular because investors anonymously take positions in Indian markets, and hedge funds anonymously carry out their operations. Some entities route their investments through P-notes to take advantage of certain countries' tax laws.
However, because of the anonymity, Indian regulators face difficulty determining a P-note's original and end owner. Therefore, much unaccounted money enters the country through P-notes. In addition, SEBI has no jurisdiction over trading P-notes. Although FIIs must register with SEBI, the P-notes trading among FIIs are not registered. For this reason, India's government is concerned that P-notes are being used for money laundering.
For this reason, the Special Investigation Team (SIT) wants stricter compliance measures put in place for trading P-notes. However, when the government proposed putting trading restrictions on P-notes in the past, the Indian market became extremely volatile. For example, around the time the government began talking about curbing P-note trading in October 2007, the market dropped 1744 points. Because FIIs help fuel the growth of the Indian economy, industries and capital market, and because increasing regulations on P-notes would increase the difficulty of foreign money entering the market, the Indian government and investors reacted with fear. The government ended its discussion on regulating P-notes.
---
🌐 A data glove for the speech-disabled
A data glove, which measures the individual joint angles of all the five fingers to understand the activity of daily living, developed by Nayan Bhatt, Research Scholar from the Department of Applied Mechanics, IIT Madras, recently won the Budding Innovators Awardgiven by the Delhi-based National Research Development Corporation (NRDC).
The data glove has 15 sensors (plus an additional reference sensor) that help in gathering information about kinematics or hand motion.
Each sensor is connected to a microcontroller board using a flexible wire to collect data.
Mr. Bhatt said, "In the case of people with Parkinson's disease, the data glove will provide information about hand kinematics and help clinicians assess the severity of disease. It will complement the traditionally used Universal Parkinson's Disease Rating Scale."
The development may find application in animation and other industries.
"We are using the prototype to develop products for speech-related disability," Dr. Varadhan said. "By using specific movements of a finger for specific words, the data glove can help speech-disabled people to communicate. We can use a speech synthesiser and speaker to generate sound." Work has to be done to first map specific words to specific movements of the finger.
---
A stadium-sized pressure balloon launched by NASA in New Zealand began collecting data in near space, beginning a 100-day planned journey after several launch attempts were thwarted by storms and cyclones.
The balloon, designed to detect ultra-high energy cosmic particles from beyond the galaxy as they penetrate the earth's atmosphere, is expected to circle the planet two or three times.
"The origin of these particles is a great mystery that we'd like to solve. Do they come from massive black holes at the centre of galaxies? Tiny, fast-spinning stars? Or somewhere else?" a lead investigator on the project said.
The balloon's monitoring was only the start of a long quest which would next involve a space mission currently being designed by NASA, she added.
The balloon, launched in Wanaka, a scenic spot on New Zealand's South Island, will collect data from 34 km above the earth.
New Zealand was also the base for NASA's scientific balloon programme in 2015 and 2016.
---
🌐 Artificial womb experiment delivers hopes
An artificial womb filled with clear liquid, successfully tested on pre-natal lambs, could help extremely premature babies avoid death or life-long disability, researchers reported.\
Today, infants brought into the world after only 22 or 23 weeks of gestation rather than the full 40 have a 50/50 chance of living, and – for those that survive – a 90% change of severe and lasting health problems.
The new system mimics life in the uterus and could, if approved for human use, dramatically improve those odds.
The researchers are working with the U.S. Food and Drug Administration to prepare human trials, which could start within three years.
The foetus – breathing liquid, as it would in the womb – lies in a clear-plastic sack filled with a synthetic amniotic fluid.
The umbilical cord is attached via tubes to a machine outside the bag, which removes CO2 and adds oxygen to blood passing through it. There are no mechanical pumps – it is the foetus' heart that keeps things moving.
For the study, the researchers tested six preterm lambs transferred from their mothers' wombs to the device at 105 to 112 days of gestation – the equivalent of 23 to 24 weeks in a human. They remained in the artificial wombs for up to 28 days.
Sheep have long been used in experiments for prenatal treatment, especially because lung development is highly similar.
While nestled in the devices, "the lambs showed normal breathing and swallowing, opened their eyes, grew wool, became more active, and had normal growth, neurological function and organ maturation," said Mr. Flake.
---
Highlights of Survey on teachers absenteeism in government schools in Karnataka and five other states:
Survey conducted by Azim Premji Foundation (APF), covered 2,861 teachers in 619 government schools across Karnataka, Chhattisgarh, Rajasthan, Uttarakhand, Bihar and Madhya Pradesh; there were 371 teachers from 60 schools in Karnataka alone. Nearly 19 % of the teachers were not present in school at the time of the survey.
Nearly 7% of the teachers were absent on account of a range of official duties outside the classroom.
5% of the teachers were found to be absent from school without any reason.
Main reason teachers were away from school was not neglect of duty, but rather "systemic issues"that required them to take up other tasks.
Reasons for not being at School:
Official academic duty- deputation to other schools, training, and cluster meetings.
Administrative duty- submission of report on midday meals, children with special needs and other incentive schemes.
Other duties- elections, health issues, panchayat meetings and department schemes.
The data is based on a day's visit to each school during August-September 2016.
The study also found that more female teachers (83.8%) were present in school than males (78.4%). About 80.5% of the regular teachers were present in school, as opposed to 83.5% of headmasters.
---
Highlights of the annual report of the S Commission on International Religious Freedom
Religious tolerance and religious freedom continued to deteriorate in India in 2016.
Hindu nationalist groups — such as the Rashtriya Swayamsevak Sangh (RSS), Sangh Parivar, and Vishva Hindu Parishad (VHP) — and their sympathisers perpetrated numerous incidents of intimidation, harassment, and violence against religious minority communities and Hindu Dalits
These violations were most "frequent and severe" in 10 of India's 29 States
National and State laws that restrict religious conversion, cow slaughter, and the foreign funding of non-governmental organisations (NGOs) helped create the conditions enabling these violations.
It also blames police and judicial bias and inadequacies that "have created a pervasive climate of impunity in which religious minorities feel increasingly insecure and have no recourse when religiously motivated crimes occur".