India jumps 30 places, breaks into top 100 of World Bank's Ease of Doing Business
In news
India has jumped 30 places to rank 100th in the World Bank's 'ease of doing business' ranking, helped by a slew of reforms in taxation, licensing, investor protection and bankruptcy resolution.
India is the only large country this year to have achieved such a significant shift. On the "distance to frontier metric," one of the key indicators in the survey, India's score went from 56.05 in Doing Business 2017 to 60.76 in Doing Business 2018
In its annual report 'Doing Business 2018: Reforming to Create Jobs', the World Bank said that India's ranking reflects nearly half of the 37 reforms, adopted since 2003, implemented in the last four years.
Areas where India lags
Starting a business, enforcing contracts and dealing with construction permits.
It takes 30 days now to register a new business, down from 127 days 15 years ago, but "the number of procedures is still cumbersome for local entrepreneurs who still need to go through 12 procedures
Highlights
New Zealand is the easiest place on the planet to do business, followed by Singapore, Denmark, South Korea and Hong Kong. The US and the UK are ranked 6th and 7th on the list.
Among BRICS countries, Russia tops the list with 35th position, followed by China which has retained its ranking at the 78th place for the second consecutive year.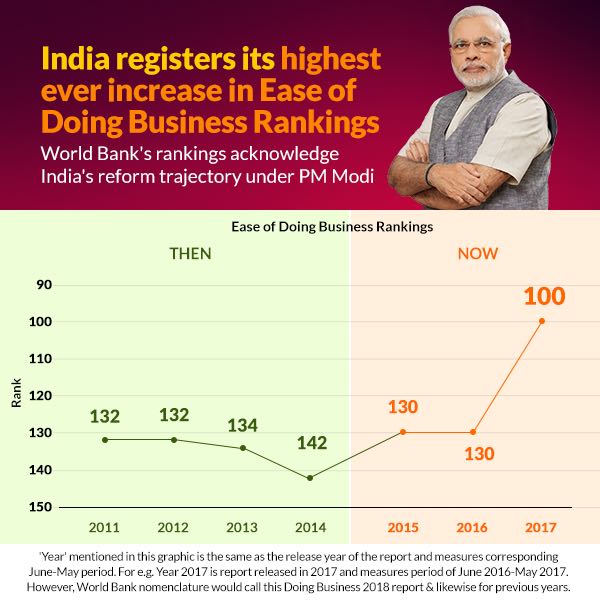 Ease of doing business index
The ease of doing business index is an index created by the World Bank Group.
Higher rankings (a low numerical value) indicate better, usually simpler, regulations for businesses and stronger protections of property rights. Empirical research funded by the World Bank to justify their work show that the economic growth impact of improving these regulations is strong.