India and Russia concluded their joint tri-service exercise, Indra
In news
'Indra-2017', the first The Indo-Russian tri-service military exercise concluded in Russia's Vladivostok, on Sunday after 11 days of joint training in counter-terrorism operations.
Exercise INDRA – 2017: Indo-Russia Joint Exercise
Exercise INDRA-2017, the first ever Tri Services Joint Exercise between Indian and Russian Armed Forces will be conducted in the Eastern Military District of Russia from 19 to 29 Oct 2017.
Exercise INDRA in its previous nine avatars has been conducted as a single service exercise alternately between the two countries.
The year 2017 marks a major milestone as this Exercise has been upgraded to involve all the three Services of the Armed Forces (Army, Navy & Air Force), which further accentuates the importance of Joint Services in the present world environment.
Objective
Exercise which will provide an opportunity to the armed forces of both countries to train in counter terrorism operations in a multinational scenario in a joint tri service environment. The scope of the Exercise includes professional interactions, establishment of joint command and control structures between the Indian & Russian forces and elimination of terrorist threat in a multinational environment under the UN mandate.
Exercise INDRA-2017 will strengthen mutual confidence, inter-operability and enable sharing of best practices between both the armed forces. It will be a landmark event in the history of Indo-Russian defence cooperation.
Conclusion of the exercise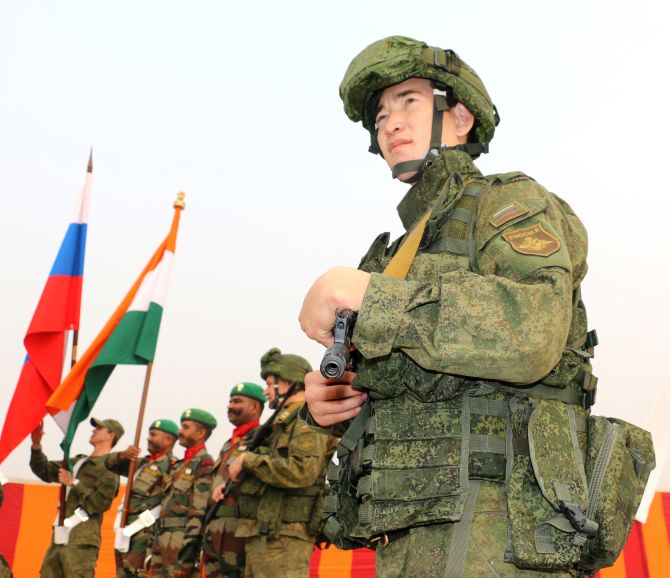 In the series of bilateral exercises under this banner, the exercise this year focused on conduct of counter insurgency operations under United Nations mandate in a joint service environment," the statement said.
 "The exercise also provided an opportunity to both the armies for greater cultural understanding, sharing experiences and strengthening mutual trust and co-operation," it added.
Participants from both the armed forces expressed "immense satisfaction" at the conclusion of the training, "in terms of the standards achieved in the validation phase of the training", the release said.