What is in news?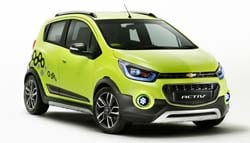 ISRO demonstrated its solar hybrid electric car because the "Vehicles using fossil fuels persistently bring serious problems to environment and life. In this perspective, Solar and Electrical energy based hybrid vehicles provide the most effective and viable long-term solution by using renewable energy sources for mobility."
About solar hybrid car:
To drive the car, energy was supplied to the vehicle by energy density Lithium ion batteries connected across high power density super-capacitors.
The battery delivered the sustained energy requirement while the super-capacitor supported the peak power demand during high torque conditions.
This arrangement of power sharing helped in enhancing the life of power-restricted batteries.
A solar panel fitted on rooftop of the car charges the battery by absorbing the sunlight.
Now, this electrical energy needed to be converted to mechanical energy to drive the wheels and this was achieved by integrating an efficient power conversion module between energy system and electric motor.
The usage of a Brushless type motor helped in improving the torque and reducing energy input while also helping in weight savings.
About ISRO:
The Indian Space Research Organisation is the space agency of the Government of India headquartered in the city of Bengaluru.
Headquarters: Bengaluru
Founder: Vikram Sarabhai
Founded: 15 August 1969
Motto: Space technology in the Service of humankind.
Primary spaceport: Satish Dhawan Space Centre, Sriharikota, Andhra Pradesh
Director: A. S. Kiran Kumar