PM Modi Launches affordable airfare scheme UDAN in Shimla
In a bid to make flying more affordable for the common people, Prime Minister Narendra Modi flagged off the first regional flight on Shimla-Delhi sector under the Ude Desh ka Aam Nagrik or UDAN scheme from Jubbarhatti, an airport on the outskirts of Shimla.
Under the scheme, which holds a plan to connect over 45 unserved and under-served airports in the country, PM also flagged offed the inaugural UDAN flights on Kadapa – Hyderabad and Nanded-Hyderabad sectors through video conferencing.
---
Details of UDAN Scheme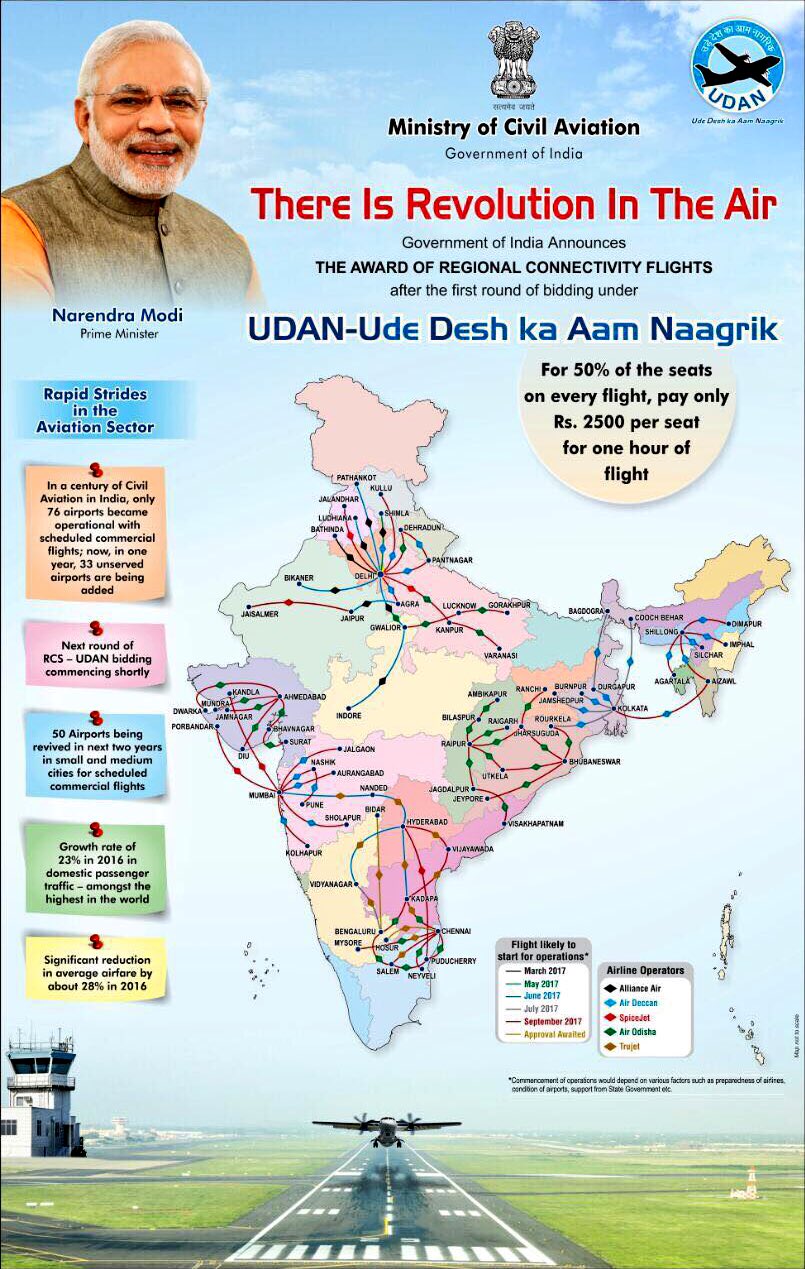 Under UDAN Scheme the central government provides the facility to travel by air in Rs.2500 only for the journey up to 500 km. For longer routes and flight duration, the pricing will vary. A single person will be entitled to buy 9 to 40 seats in a flight.
Under this programme, the government intends to connect 45 unserved and under-served airports. Five airlines were awarded 128 routes under the scheme last month after a bidding process.
The selected airline operator would have to provide 50 per cent of the flight capacity with a cap of Rs 2500 per hour on fixed wing aircraft and a minimum of 5 and a maximum of 13 on helicopters with the same price cap.
The airline companies operating under the scheme are Air India-subsidiary Airline Allied Services, SpiceJet, Air Deccan, Air Odisha and Turbo Megha will operate flights services on 128 routes that will connect 70 airports through 19-78 seater aircrafts.
The airports to be connected under UDAN include Bhatinda, Bhavnagar, Durgapur, Jaisalmer, Puducherry, and Shimla.
Under UDAN Scheme, airlines would be extended viability gap funding, for which money is partly raised by levying up to Rs 8,500 on flights operating in major routes like Delhi and Mumbai.
The scheme has been described as "a first-of-its-kind scheme globally to stimulate regional connectivity through a market-based mechanism."

Significance of the Scheme
UDAN scheme will make flying easier and affordable for the common man. It is hailed as the first-of-its-kind scheme globally to stimulate regional connectivity through a market-based mechanism.
UDAN network will cover the whole country. Accordingly, 24 airports in the western region, 17 airports in the northern region, 11 in the southern region, 12 in east and 6 in north-eastern parts of the country are proposed to be connected under UDAN.
The scheme is expected to have positive effects on the economy in terms of employment and investment. The scheme will also promote tourism and balanced regional growth.
Background
The 'Ude Desh ka Aam Naagrik' RCS (Regional Connectivity Scheme) was launched in October 2016. It is considered as a vital component of the National Civil Aviation Policy (NCAP) which was released on June 15, 2016.
The scheme has been launched to provide connectivity to un-served and under-served airports of the country through revival of existing air-strips and airports.
This is first of its kind scheme and will be implemented for a period of 10 years. As of now, 128 routes have been identified and declared in the RCS map of India.
The key objective of the UDAN scheme is to provide regional connectivity so that persons in regional towns are able to take affordable flights.