The HINDU Notes – 26th April
📰 THE HINDU – CURRENT NOTE 26 April
---
---
---
🌐 'Maoists used villagers as human shields in Sukma'
Maoists used villagers as "human shields" when they attacked CRPF personnel in Sukma district of Chhattisgarh, a senior Home Ministry official said.
Twenty-five CRPF jawans were killed in the ambush, and seven critically injured.
The CRPF team, which came under attack, was providing protection to workers and contractors engaged in constructing a 5.5 km road stretch near Burkapal and had been following a routine for the past few days.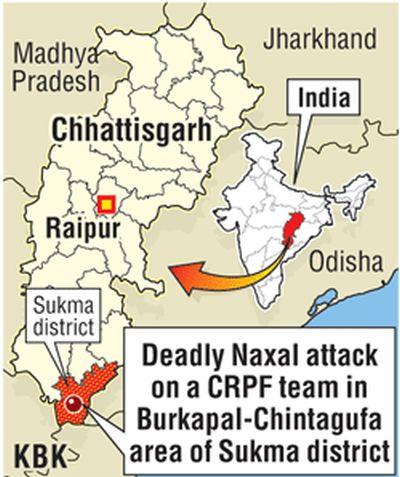 The Maoists also looted a huge assortment of weapons and ammunition belonging to the jawans. This included 12 AK-47 rifles, five of them fitted with under barrel grenade launchers (UBGLs), five INSAS machine guns and rifles, more than 2,800 rounds of AK-47 ammunition, 600 rounds of INSAS ammunition, 22 bullet-proof jackets, five wireless sets, two binoculars and a metal detector.
Asked by a reporter at the press conference if the attack indicated an "intelligence failure", Mr. Singh said, "This is not the time for a blame game."
On why a full-time director general of the CRPF had not been appointed, he said, "We don't have a dearth of leadership- …whenever needed we will appoint a senior officer here."
A senior Home Ministry official ruled out "Army intervention" and said that Left Wing Extremism (LWE) was a "law and order" problem and it ought to be handled by "civilian forces."
---
What's in news?
Highlights of Third meeting of Joint group on BCIM at Kolkata:
Joint group : representatives from government departments and business and research organisations from the four countries
Negotiations at government level: China stressed on the need to upgrade negotiations on the Bangladesh-China-India-Myanmar Economic Corridor (BCIM–EC) to the government level .
About BCIM:
The corridor stretches over about 3,000km — from Kolkata to Kunming in China via Silchar and Imphal in India, Dhaka and Jessore in Bangladesh, and Mandalay in Myanmar.
The first meeting of the joint study group was held in China in 2013 and Bangladesh hosted the second in 2014.
India's Act East policy vision : Envisages mutual development and prosperity in our shared region
---
🌐  Odisha's famous tiger dance losing its charm for many
Though the biennial Thakurani Jatra festival of Berhampur showcases the famous tiger dance or 'Bagha Nacha', experts feel that the standard of this folk form has gone down over the years.
It was part of the tribal life in the hilly regions of Bhanjanagar in Ganjam and adjoining Kandhamal districts, Odisha.
During the 21-day-long Thakurani Jatra festival, which is currently in progress in Berhampur, several people, including children, get their whole body painted like a tiger as a homage to Goddess Budhi Thakurani.
The dance was the key element of the critically acclaimed movie Bagh Bahadur by Buddhadev Bhattacharya, which won the National Film Award for the best feature film in 1989
---
🌐 Monkey fever kills one in Goa
Goa's Directorate of Health Services have intensified their fever surveillance and precautionary measures for the Kyasanur Forest Disease(KFD), commonly known as monkey fever, after a woman from Sattari Taluk of North Goa died of the illness.
He said this is fifth KFD-related death in Goa since 2015; the first was reported in 2015 in North Goa, followed by three more in 2016.
---
🌐 India assures Nepal of help with polls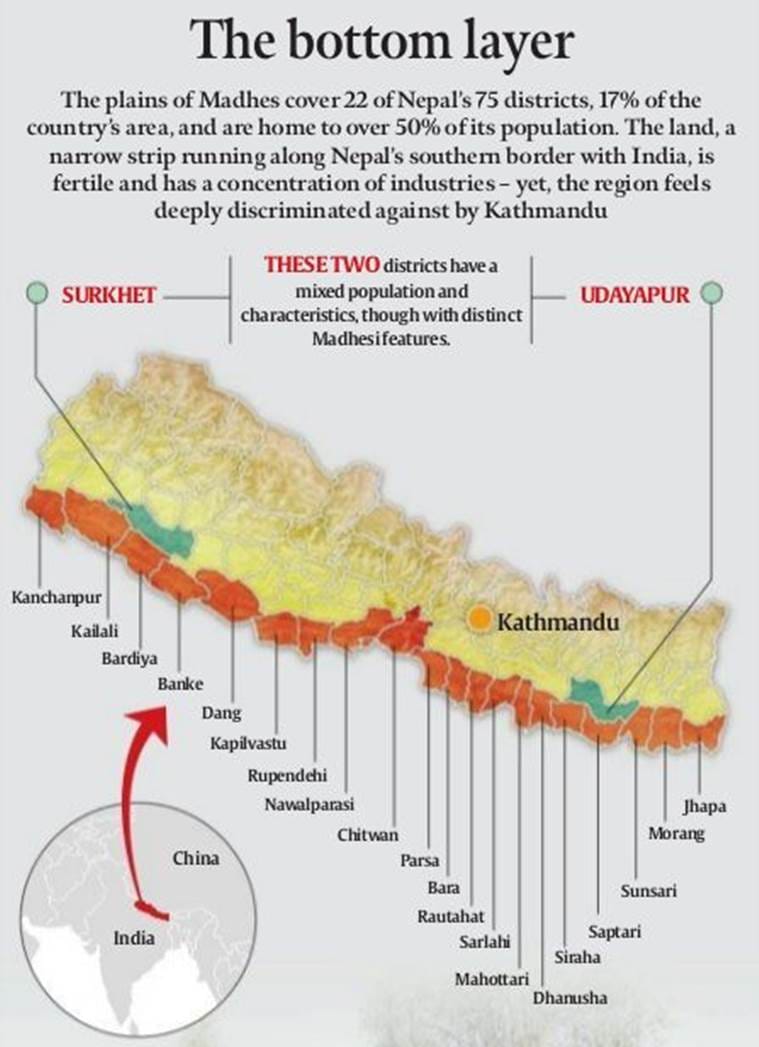 Prime Minister Narendra Modi on 25 April 2017 assured his Nepali counterpart Pushpa Kamal Dahal 'Prachanda' of "all possible help" in organising the three-phase election – covering local, provincial and central levels – that will begin in the Himalayan country on May 14.
The PM's statement, which indicates a softening of official policy towards Nepal's democratic process, came two days after Madhesi agitators agreed to participate in the elections though their demand of redrawing provincial boundaries before proceeding with the polls was not met.
The breakthrough was achieved after two days of talks between the Madhesis and the government.
India's assurance comes after Mr. Dahal received a financial package from China.
---
What's in news?
New add-on's to the India's latest military doctrine, 'joint doctrine Indian armed forces' – Surgical strikes, including across the border.
Surgical strikes are response to terror provocations.
Key Fact: In the last two years, the Army had carried out surgical strikes across the border with Myanmar and Line of Control (LoC) Pakistan, targeting terrorist camps.
Way Forward: Formulation of other keystone doctrines like information warfare, training and so on should be thought of in the future.
---
🌐 India, Sri Lanka slip on oil, trade deals
Sri Lankan Prime Minister Ranil Wickremesing, who arrived in New Delhi on 25 April 2017 for official meetings, is expected to announce several MoUs on developing energy and infrastructure projects in Trincomalee and fast tracking negotiations for an upgraded free trade agreement – the Economic and Technical Cooperation Agreement (ETCA).
But both face opposition in Sri Lanka.
External Affairs Ministry officials said they hoped to see the agreement on the Trinco Oil storage, which was first negotiated in 2003, and the development of infrastructure – highways, power plants, a refinery and an SEZ – around the key port town of Trincomalee wrapped up.
In a last-minute hitch on 23 April 2017 night, oil union workers in Colombo went on a strike against the planned MoU with India for 84 tanks in the Trincomalee upper oil tank farm, of which Sri Lanka is keen to retain at least 10 for use by the Ceylon Petroleum Corporation.
After day-long talks with Sri Lanka's Petroleum Minister Chandima Weerakoddy, and an intervention by Mr. Wickremesinghe , the unions called off the strike that hit fuel supplies in the country on 24 April 2017, but claim they have an assurance that their concerns over leasing the tanks to India will be taken into consideration before any announcement is made.
Backing their protest were members of the Joint Opposition and the leftist JVP, who said the deal would give India control over energy resources in the island nation.
Meanwhile in Delhi, Commerce Ministry officials continued their three-day talks on the ETCA, which began on 24 April 2017, to iron out differences on the upgraded Free Trade Agreement (FTA) of 2000 to include services, investment and technological trade, which has also faced opposition from political parties as well as some businessmen.
Acknowledging the problems, a Commerce Ministry official said India had sent a team to Sri Lanka recently to make presentations on the benefits of widening the FTA and had formally asked the government for a list of perceived "non-tariff barriers" that businessmen were complaining about.
External Affairs Ministry officials conceded that the ETCA was far from being concluded at present.
---
Criticism: Central government is unfairly imposing Hindi on non-Hindi-speaking States
Govt: Is only promoting the language as per an Act of Parliament.
Background: In March, the Department of Official Language of the Home Ministry pulled out a 2011 report of a Committee of Parliament on Official Language and sent it to the President for approval
The "progressive" use of Hindi in the Central government offices is reviewed by this Committee every 10 years under the Official Languages Act, 1963 and the Rules framed under it
As many as 110 out of the 117 recommendations in this report were accepted by the President
The Home Ministry has issued an advisory to all States and government departments to implement the recommendations
Recommendations:
Giving students the option of writing their exams in Hindi
making minimum knowledge of Hindi compulsory for government jobs
ensuring that the government spends more on Hindi advertisements than English ones
the railway ministry should buy equipment with lettering in Devnagri script
railway tickets should be bilingual, with Hindi being one of the two languages
Hindi should be an option for UPSC aspirants
Cabinet ministers should deliver their speeches in Hindi as much as possible
Making it mandatory at railway stations in 'C' category (non-Hindi speaking) states such as Tamil Nadu, Karnataka, Andhra Pradesh, Telengana and Kerala to have announcements in Hindi
---
🌐 China bans 'Muhammad','Jihad', 'Medina' as baby names
The Chinese government, further tightening its grip on Muslims in western China, has prohibited parents from choosing names like "Muhammad," "Arafat" Mujahid", "Jihad" and "Medina" for their children.
Officials described the ban, introduced this month, as part of an effort to "curb religious fervour" in the western region of Xinjiang, home to more than 10 million Uighurs.
The government considers Xinjiang a hotbed of Islamic extremism, violence and separatist thought.
But many Uighurs say the government's strict limits on worship and speech are responsible for tensions in the region.
Some said in interviews that if residents did not comply, they risked forfeiting critical benefits for their children, including education and health care.
Rights advocates said the ban showed the lengths to which the government would go to limit the civil liberties of Uighurs in the name of fighting terrorism.
To combat what officials describe as extremism in Xinjiang, the Chinese government has put in place a series of restrictions in recent years.
Earlier this month, for example, security officials imposed bans on long beards and veils in public places.
---
🌐 NITI Aayog moots taxing agriculture income
Government think-tank NITI Aayog has suggested that agriculture income be brought under the purview of personal Income Tax in a bid to curb tax evasion.
In its three-year action agenda, discussed at the Governing Council meeting, the Aayog reasoned that non-agricultural entities sometimes use the blanket relief to evade taxes.
"All agricultural income is currently exempted from Income Tax regardless of its size. While the provision is meant to protect farmers, non-agricultural entities sometimes use it to evade taxes by declaring agriculture as the source of their income," a senior official told.
"A key limitation of personal Income Tax regime is the small tax base. In assessment year 2014-15, only 3.65 crore individuals filed returns. Of this group, only 1.91 crore individuals or around 1.5% of the population paid any Income Tax at all," the official said.
There were about 225 million households in India of which roughly 2/3rd were in rural India.
Rural India, he said, was effectively out of the purview of all personal income taxation.
---
🌐 NGT notice on unregulated chopper service to Kedarnath
The National Green Tribunal (NGT) on 25 April 2017 issued notices to the Union Ministry of Environment and Forests, Uttarakhand government, National Board for Wildlife and others on a plea raising concern over the looming threat to the flora and fauna in the eco-sensitive zone in the State due to regular operation of helicopters.
A Bench headed by NGT Chairperson Justice Swatanter Kumar was hearing a plea filed by environment activist Kavita Ashok seeking execution of its December 10, 2015 order.
In the order, the court had asked the Uttarakhand government to issue directions in consonance with its aviation policy with reference to the eco-sensitive zones at the Kedarnath Wildlife Sanctuary in relation to the height and level of noise that helicopters should be permitted to generate.
The wildlife preserve is known for trees such as oak, chir, pine, birch and alpine.
It is also home to endangered and rare species like the musk deer and the Himalayan tahr (a type of wild goat).
A large number of pilgrims, intending to avoid the 16-km trek to visit the Kedarnath shrine in Rudraprayag district, opt for chopper services to reach the destination.
Wildlife Institute of India, Dehradun, has also suggested that the Uttarakhand government shift the Sersi helipad, which is close to the Kedarnath Wildlife Sanctuary.
---
🌐  NTCA orders exclusion of tribal rights in critical tiger habitats
The National Tiger Conservation Authority (NTCA) recently ordered that there would be no tribal rights under the Scheduled Tribes and Other Traditional Forest Dwellers (Recognition of Forest Rights) Act, 2006 (FRA) in critical tiger habitats.
The NTCA and the relevant expert committee constituted to ensure tiger conservation under the Wildlife Protection Act, 1972 (WPA) have a mandate to ensure conservation along with human coexistence.
Even in the face of significant evidence that tribals have helped in increasing the tiger population, whether the Soligas in the BRT Tiger reserve in Karnataka or the Baigas in the Kanha National Park in M.P., they have been periodically evicted, even as corporations and developmental projects are given a free hand to generate an environmental crisis on an unprecedented scale.
---
🌐  SC seeks common law against cross-border cattle smuggling
The Supreme Court on 25 April 2017 asked the Centre to extend to the India-Bangladesh border areas, the rules framed to counter cross-border cattle smuggling to Nepal.
A Bench led by Chief Justice of India J.S. Khehar was informed by government counsel that the Livestock Animals Rules and Case Property Animals Maintenance Rules to prevent cattle-smuggling across the Nepal border, framed in December 2016 on the basis of the Supreme Court's orders, were now with the Union Law Ministry prior to its notification.
The government said the rules would have far-reaching effect on the authorities' efforts to curb cattle-smuggling and they envisaged joint action by paramilitary forces and the district administrations.
Earlier on 24 April 2017, the Centre had proposed issuing "unique identification number sequences" for cows and their progeny to protect them from cattle smuggling.
" … Government of India, has devised a method of tamper-proof identification of cattle using polyurethene tags with unique identification number sequence. This may be made mandatory for all cow and its progeny throughout India for all cattle that is owned," said a government panel report in the Supreme Court.
---